Enjoying Valentine's Day As a Single Lady
Being single doesn't mean that you need to find Valentine's Day a depressing occasion. You can still treat yourself and feel good about where you are in life. This article provides a range of ideas for doing things to participate "in spirit" while keeping up your spirit; or, you can simply treat it like any other day.Valentine's Day is meant  for that special someone in your life. Who says that special someone can't be you? You work hard for the money and St. Valentine wasn't going steady with anyone. So spend the day treating yourself to indulgences the Saint himself would want you to have!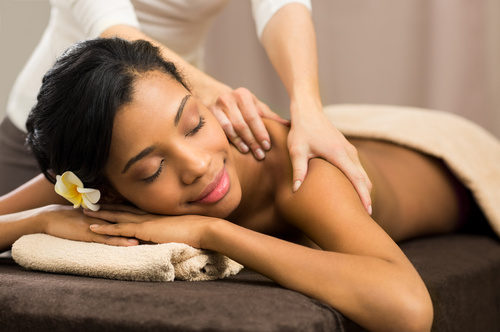 1
Make the day about self-care.
 Do things that make you feel good and relaxed. Focus on activities that soothe you and put your mind at ease. The most important love you'll ever have is the love of self. Be kind to yourself in mind, body, and spirit. Consider these ways to unwind and let go.
Get a massage
Go to a day spa
Take a hot bath or shower
Listen to music while having a drink of your choice. Hot chocolate. Tea. Wine. Beer. Whatever makes you feel good.
Read a book or some magazines
Watch some movies or TV shows that you love. Consider avoiding the sappy stuff that puts you in a bad mood about Valentine's Day.
2. Get chocolate. Who says you need someone to buy it for you? Get a box of chocolate and enjoy it. Chocolate releases endorphins in the brain to make you feel good! So a little chocolate will actually improve your mood and make you feel better.
3. Give Valentine's Day cards or goodies to others. Remember when you were a kid in elementary school? You may have given out Valentine's Day cards to other classmates at school. You were taught to be kind and show love to everyone. Take action and give back to those around you.
Give Valentine's Day cards to show support for your friends, family, and co-workers. Valentine's Day cards don't have to be only romantic in nature. They can be fun, playful, and happy.
Bring some treats to work or school to share with others. Make sure that others feel appreciated on this day. Other people just like you may feel left out. Remind them that today is about being supportive and kind.
You should also realize that there are less fortunate people around the world, you may feel depressed about yourself not having a boyfriend/girlfriend, but there's plenty of people who do don't even have a home, food, freedom, and other essentials. Your situation pales in comparison to people who live under dictatorships and/or third-world poverty. Try volunteering at a homeless shelter or donate goods to third world countries. You will realize how lucky you still are and not worry about not having a mate too much.
  4. Don't compare yourself to other people. If you're the type who imagines folks secretly pointing at you on the street and laughing at your single status, you're spending way too much time measuring yourself against supposedly happy, snuggling couples, avoid doing such
5. Do something nice for another person. Open a door for someone who needs it, volunteer at a church, buy a rose and give it to someone random on the street, whatever you do, will make you feel full of love inside.
6.Don't feel sorry for yourself. This will just make the day depressing and dreaded. Instead, be excited for this day. After all, it only comes once a year.
Stay Happy and cheerful ,your validation is not in your relationship status.
If you like these tips on how to enjoy your valentine's day as a single kindly reach out to us and leave a comment.
Ada Blessing
I have a passion for writing and keen eyes for fashion. You can catch me burying my head in a great book or surfing the internet for new ideas. I am a student in the school of life, still learning, growing and becoming more. Follow me on Instagram and Twitter @Ada1stlady